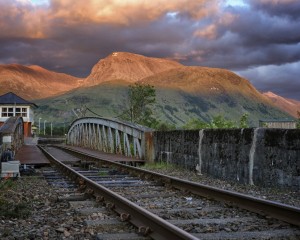 Had a great few days in Fort William, Scotland.
Julie had an important birthday that required some serious celebration.
She decieded she would like to walk up the highest mountain in the Uk, and maybe try out some climbing too. The celebrants consisted of her family and a few friends.
As Julie had heard that there can be navigation issues on the top of Ben Nevis in poor weather, I was asked to lead the group. This meant she could concentrate on the walk and views and generally having a good time and I would take care of the rest, and take a few photos on the way which I sometimes put on a password protected gallery so they can be shared with the client's friends and family all over the world.
As not all the group were experienced walkers we chose the Pony Route. There are a few different routes up Ben Nevis ranging from a long walk through steep ascent, ridges involving scrambling and full on climbing. Of course, a winter ascent is a very different proposition requiring winter skills and equipment. However, it's worth remembering that Ben Nevis often has snow on and near the summit all year round. There was plenty of snow this time too.
We stayed at Chase the Wild Goose Hostel and set out about 8am in the morning to Glen Nevis. Everyone had packed the necessary equipment and clothing and I leant out a few pairs of gloves. It's worth remembering that even when it's warm weather in the valley it can be much colder on the tops, especially at 1344m. Moist air cools at around 1 degree per 200m ascent. When you add in wind chill factor, it can be really cold. Mountain weather can change really quickly so it's quite risky to predict you are going to have good weather all day.
If you enjoy the solitude of the mountains then you should consider a different mountain. There were thousands of people on the Pony track as you would expect from such a "badge" mountain. Still, it all helped to add to the party atmosphere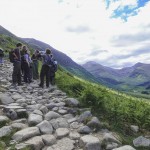 When we got to the first snow patch, one of the group was a little nervous about slipping but after we'd kicked a few steps and given some support she soon crossed to the stony ground ahead.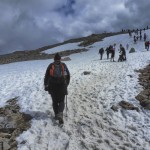 Before long we were on the summit plateau and with good weather there were some great views. We could see people crossing the Douglas Gap on Tower Ridge and others on the CMD Arete.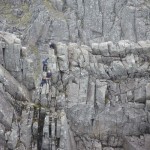 We had lunch on the top then after some more sight seeing started to descend. Some of the group wanted some tips on map reading so we looked at the dangerous error people sometimes make in bad weather when they follow a bearing that leads them into Gardyloo Gully and down the north face, or later still into the top of Five Finger Gully.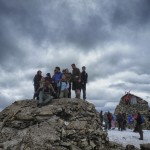 On the way down we passed lots of people doing the first part of the 3 Peak Challenge, they had a long day ahead of them. As we approached the end of our day we could see the RAF Sea King rescuing someone from the zigzags. It's worth remembering that many accidents happen on the descent. Fortunately, with good planning all our group had had a great day and could look forward to celebrating in Fort William.